If you come across an issue that you cannot view users incoming messages and/or send messages to users. In addition, your WhatsApp profile page do not show your Business logo and other information then this might have happened due to:
Your API is disabled due to plan expiry, technical fault pertaining to Business Manager, WABA Account, phone number

OR

Your Facebook user access Token has expired dues to password change or time period, if your API is applied thru direct Cloud APIs
In case your API was registered via 360 Dialog and your API is disabled, then you should connect with your Nextel support to help you re-enable.
In case your API was registered via Cloud API, then you can re-generate the token and place it back dashboard. Below are the steps to re-generate the token and connect with Nextel.
Step 1. Go to Facebook Developer console and choose My Apps: https://developers.facebook.com/apps/
Step 2. Choose the App you used to create your WhatsApp Business Account.
Step 3. From the left hand menu, select WhatsApp > Getting Started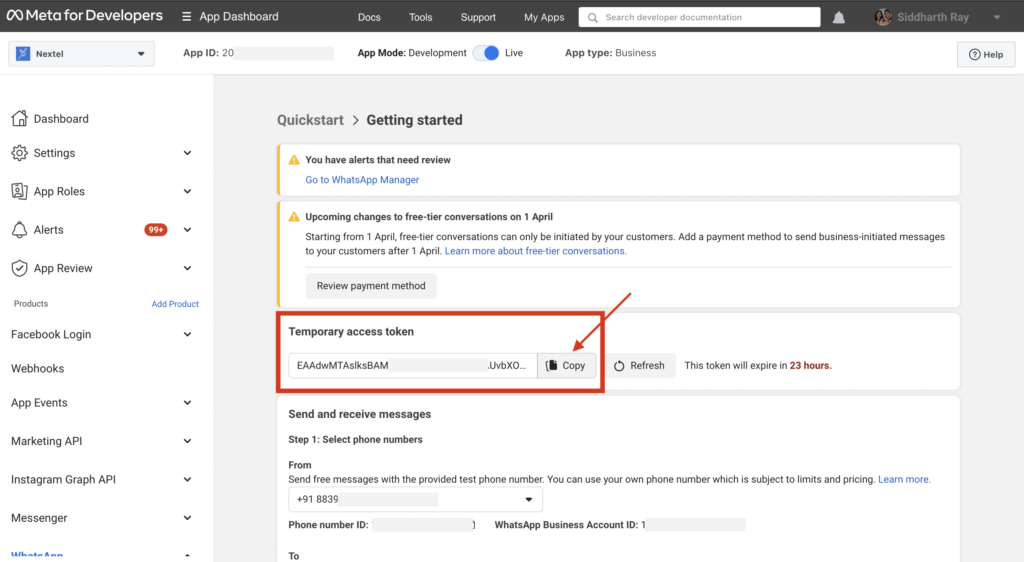 Step 4. Copy and paste the token in the WhatsApp profile section: https://app.nextel.io/settings/profile

Tap on Update Token once pasted.