Understanding Broadcast Insights
The Manual Message page shows the list of all WhatsApp Broadcasting campaigns that has been sent from the Nextel dashboard. The campaign are listed based on their created date and time, and shows you important metrics including Messages Sent, Delivered, Seen, Replied and Failed.
nfl jerseys cheap
nike air jordan 1 mid
nike air max 90 futura
jerseyscustomforsale
new adidas shoes
Human hair Wigs
natural hair wigs
nike air jordan for men
Natural wigs
sex toy shop
custom jerseys football
custom football jersey
custom hockey jersey
The Page have 4 tabs: Sent, Scheduled, Failed and Drafts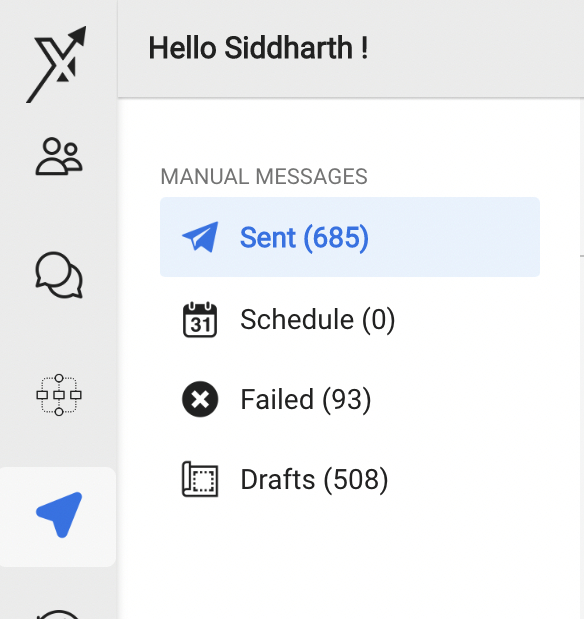 Sent – All the completed campaigns will be listed here.
Scheduled – All the scheduled campaigns, and distributed audience campaign that are still running will be listed here
Failed – Campaigns that are completely failed, and no message was delivered to even a single user number will be listed here.
Drafts – Campaign that haven't been made live will be listed here.
Sent and failed count in My Audience & External Audience Campaign
The failed count for your dashboard audience campaign, is calculated as (Sent) – (Delivered). Since the stats for Delivered and Seen counts are updated in every 6 minutes, therefore all messages Failed count will appear same as Sent count for sometime.
Whereas in External Audience campaigns, the failed count include numbers that are WhatsApp invalid.
Performance
You can find a Performance button below every campaign name listed in the Sent tab. This will open a popup with detailed insights for you to understand / calculate the ROI of a campaign. The performance details the following:
Count of delivered and Replied users
Responses: Bifurcation of Responses by user, how many are interested or not interested. This will only appear if your campaign message has Quick Reply buttons
Funnels: The count of funnel stages updated, how many of the user finally converted into a paid customer
Download Report
You will find a Download Report button on the extreme right hand side of the campaign report table. This will download a .xlsx file with detailed number-wise message report.
Points to remember:
Bydefault only latest 10 campaigns are displayed, you can previous campaigns by clicking the Load More button
All the stats of campaign, excluding Funnel, will be updated only for the next 3 days after the completion of Campaign
All the distributed audience campaign will appear in Scheduled, till the campaign is completed
The metric count of a running or recently completed campaign is updated every 6 minutes, due to which your campaign delivered and seen count may be appear "-" for sometime