Understanding Auto Message Insights
The Auto Message page shows the list of all Triggered based WhatsApp campaigns that are live in the Nextel dashboard. The campaign are listed based on their created date and time, and shows you important metrics including Messages Sent, Delivered, Seen, Replied and Failed.
The Page have 4 tabs: Live, Paused, Stopped and Drafts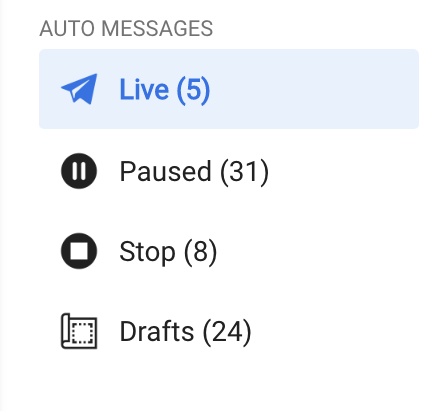 Live – All the auto campaigns that are currently live and running
Paused – Campaign that were previously live, but were later paused
Stopped – Campaigns that were previously liver and were later Stopped
Drafts – Campaign that haven't been made live will be listed here
Last Message Sent
If you have made your first auto campaign live or have made an edit to an existing campaign and need to know when was the Last campaign message sent. You may check the Last Sent column on the right, it will show you the Date-time of the last message that was sent thru that particular campaign.
Download Report
You will find a Download Report button on the extreme right hand side of the campaign report table. This will download a .xlsx file with detailed number-wise message report.
Points to remember:
Bydefault only latest 10 campaigns are displayed, you can more live campaigns by clicking the Load More button
For optimal campaign performance: always have a condition on a Date or Date time attribute, for an example First seen is 0 days
The metric count of a running or recently completed campaign is updated every 6 minutes, due to which your campaign delivered and seen count may be appear "-" for sometime